What Communicators Need to Know About … "Weibo"

Weibo was launched by Sina Corporation back in 2009 and in the ten years since then, it's transformed from a no-frills microblogging site to a multi-purpose social media platform. Today, Weibo is often referred to as the "Chinese Twitter" and has turned itself into an indispensable part of most Chinese people's lives.
Read on to learn about Weibo and discover how PR pros and marketers alike can use Weibo as part of their communications strategy.
What is Weibo?
If you're new to Weibo, this is essentially a microblogging site (think Twitter) that Chinese consumers use to catch up with their friends, post updates about their lives, catch up on news and read about brands and products. The platform has grown steadily over the years: In 2018, Weibo had 462 million monthly active users and generated US$482 million in net revenue. Roughly 44% of Weibo's users are women and more than 80% of its users are under 30 years old. Also, 93% of Weibo users access the platform via mobile. According to Kevin Guo, General Manager, Strategic Cooperation & Marketing Innovation at Chinese travel service provider Ctrip "the use of mobile phones has surpassed the one of PC/tablets and the entire user's behaviour is around mobile phones, at least in China".
The most obvious difference between Weibo and Twitter is that Weibo isn't blocked in China whereas Twitter is. While Weibo's users are concentrated in China, Twitter's 328 million users are spread out across the globe.
When it comes to how people use Weibo and Twitter, research shows that Weibo users publish more posts than Twitter users and also disclose more personal information about themselves. On top of that, Weibo users are more likely to react to someone else's post and share their views, though, unsurprisingly, they refrain from discussing political topics and mentioning political organisations.
Journalism & Censorship on Weibo
Weibo doesn't just cater to the average Chinese consumer; it's also popular with journalists looking for scoops and the latest news stories. Journalists can use the platform's "Hot Search" feature to discover the latest trending topics or enable location services to search for stories in a particular city.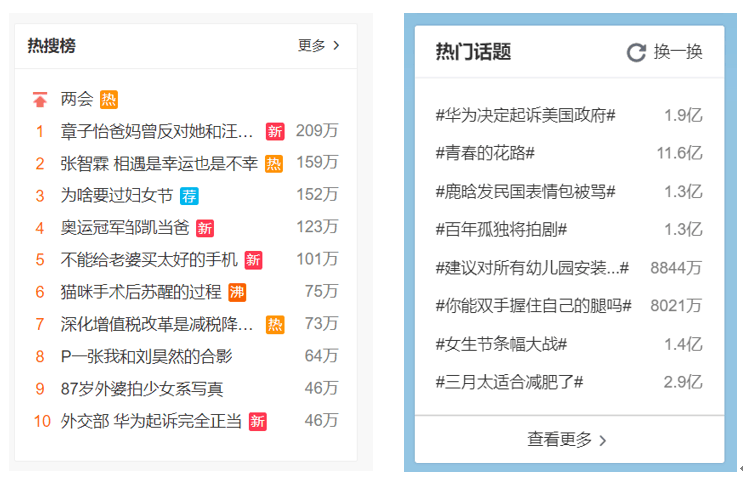 Jiao Bei, a Chinese journalist working for newspaper South China Morning Post, researched the impact of Weibo for Chinese journalists: These use Weibo for investigative reporting, can gain credibility via the platform and can get their message across despite political controls. Jiao Bei states that "even though it's beyond Weibo's capacity to effect significant political structural change such as democratisation, it aids and abets political liberalisation in China among individuals, media, society and government".
But, statistics show that around 12% of all Weibo posts are still deleted every day. According to the Committee to Protect Journalists (CPJ), Sina Corporation scans each post via an algorithm to identify politically unacceptable content. Such posts are then flagged and forwarded to censors who decide what to do with said posts, based on the instructions listed within censorship logs.
Weibo's Potential for Communications
If you're based in China or if you're looking to serve Chinese target audiences, integrating Weibo into your communication mix is simply a must.
Also, generally speaking, PR in China goes hand in hand with Weibo. If you trawl job ads for PR pros in the country, you'll find that many of these say that candidates should be experienced in building and managing Weibo accounts just to be considered.
Given Weibo's impressive number of monthly active users, it can be highly beneficial for brands to gain a following on the platform. Weibo also offers many different advertising solutions that can help to increase brand visibility and exposure on the platform and beyond such as:
So-called mobile app welcome screens: these are screen ads that pop up when Weibo users open the app. These ads stay on the screen for several seconds;
Display ads, i.e. banner ads (similar to Facebook ads) which direct users to the brand's landing page;
Weibo search engine promotion: brands can place ads within the search bar on Weibo and pay according to keywords' popularity;
Fan Headlines: these are ads that appear at the top of followers' feeds;
Fan Tunnels are similar to Fan Headlines but enable brands to reach a much larger audience which they can define selecting age, gender, region, interests and device type used.
Another effective way to reach audiences on Weibo is to work with influencers – called Key Opinion Leaders (KOL) in China. KOL marketing is very effective in the country: According to statistics, more than 60% of Chinese consumers are receptive to online influencers compared with 49 % in the US or 38 % in Japan. Working with KOLs – as trusted and authentic sources with a large exposure – and by engaging in KOL marketing, brands can gain access to their follower base.
Typically, KOLs promote brands on Weibo via:
Sponsored posts: KOLs either publish brand-featured content or repost content directly from a brand's official account;
Product reviews: given the impact of KOLs on Chinese consumers' behaviour, product reviews help brands gain credibility and wider exposure;
Giveaways: they usually generate a lot of engagement and visibility for the brand.
Examples of Successful Brands on Weibo
One successful brand on Weibo is Tourism New Zealand which previously recruited award-winning Chinese actress Yao Chen to be their brand ambassador. Yao Chen got married in New Zealand and posted several updates on Weibo during her stay. Her posts generated half a million visits to Tourism New Zealand's microsite and led to almost 20,000 referrals for the company.
Another brand that successfully used Weibo was Coca-Cola. The campaign hashtag #无负担尽享大餐# generated 21 million views and 300,000 comments:
A few years back, Italian luxury brand Fendi launched an interactive campaign on Weibo termed Fendi Play with Colours. In this campaign, Fendi asked Weibo users to vote for their favourite handbag colour and they generated 3,840 reposts and 1,495 comments from that one post in a single week.
Japanese multinational personal care company Shiseido launched a giveaway campaign on Weibo, focused on sun protection and the skin whitening craze that exists among Chinese consumers. The brand invited Weibo users to follow its official Weibo page, answer a few questions and then share the campaign post with three friends using an ad-hoc hashtag. The winners received products from Shiseido's Urban Environment UV Protection line.
Weibo: Risks & Challenges
While Weibo can be an effective tool for communicators, it also brings about certain risks and challenges that Weibo users (and companies who use Weibo) grapple with on a whole.
First and foremost, there's the issue of censorship which not only comes from the government but also from the Chinese internet giants themselves. Back in 2018, Weibo launched a three-month purge on anime, games and short videos that depict "pornography, gore, violence and homosexuality". 
On top of that, Weibo is now rampant with fake followers which Chinese consumers term "zombie followers"- many of these belong to KOLs. In fact, the relationship between KOLs and their fans is peculiar: some followers even create fake accounts to boost the numbers of their favourite KOLs – in addition to machine-enabled bots which are also widely used. Estimates say that, on average, celebrities on Weibo have a following that comprises of 17% fake followers on average.
In addition, according to statistics, 69% of KOLs are engaged in fraudulent practices. This frustrates ordinary (non-celebrity) Weibo users and it also makes it difficult for brands to advertise and accurately measure reach as well as results on the platform.
Weibo gone wrong: corporate scandals on Weibo
News on Weibo can spread like wildfire. Therefore, there is a real and substantial risk that brands could have their names smeared and get embroiled in full-blown crises.
Case in point? A few years back, someone posted on Weibo that Suhai Group – one of the suppliers of KFC in China –, was adding toxic industrial chemicals into their chicken feed to make chickens grow faster. KFC replied three days later on their Weibo account, stating that only 1% of KFC chicken was supplied by Suhai Group. Unfortunately, this was too little, too late – at this point, the company's reputation had already been tarnished and the vast majority of Chinese consumers had heard about KFC's "toxic" chicken.
Just recently, a scandal involving fast fashion retailer Zara broke out on Weibo. Here's what happened: Zara posted an ad on its Weibo account featuring Chinese model Li Jingwen with minimal makeup and her freckles showing. After the ad went up, critics quickly lambasted the ad saying that it was humiliating to Chinese women and that it "defamed" Chinese beauty. To add context, Chinese women prize clear, pale skin and see freckles as an unattractive feature.
Brands: How to Get Started on Weibo
The first step to getting started on Weibo is to create a corporate account. Once you've activated and logged into your account, make sure to fill in your company information to get a blue verified badge. Once done, upload banners, cover pages and background pictures to customise your account's homepage. Make sure you use the relevant brand colours and fonts to portray a consistent image; your Weibo account should not look or feel any different compared to your website.
Next, start posting content about your brand. Weibo is a fast-moving channel, so we recommend posting at least once or twice a day. Make sure you post in Chinese and link your posts to hot or trending topics in order to gain traction. Also, make sure to engage with your followers as well. Promoting a brand on Weibo is like promoting a brand on any other social media channel – you need to create and maintain engagement through two-way conversations.
Want to make the most of your Weibo account? Here are some tips:
First, don't post any links that are blocked in China. Many marketers forget that sites such as Facebook, YouTube, Instagram and Reddit are banned in China – if you post links from these sites, your followers won't be able to see them creating a frustrating experience.
Next, set up a welcome message to greet your followers. This is basically a message that's automatically triggered to your new followers and you can use these messages to direct your followers to your website or landing pages.
Finally, consider advertising on Weibo to gain traction in the Chinese market. 
Weibo vs. WeChat: Which Platform Offers More Value?
We'd say that Weibo is more conducive for PR pros and marketers compared to WeChat. Why? Firstly, the average Weibo user follows 130 official accounts which drastically outweighs the 50 official accounts that WeChat users follow on average. Weibo users are simply more receptive to interacting with brands and hearing from them.
On top of that, Weibo allows anyone to view Weibo posts and posts are set to "public" by default. WeChat is more closed off as users only see posts from accounts they subscribe to. Basically, the way Weibo is built helps with disseminating content and information and you're likely to have more people engaging with your content on Weibo.
A Final Word on Using Weibo
If you're looking for a social media platform that will allow you to reach Chinese consumers, Weibo is a great bet. Weibo offers effective ways for brands to build up their reputation and establish a name for themselves within the Chinese market. But, it's crucial for communicators to have a firm grasp of the intricacies of Chinese culture, consumers and communication to avoid any embarrassing gaffes.
_______________
Interested in Ubermetrics' Social Listening capabilities? Reach out to us today!